Come Join The Infinite Wilds!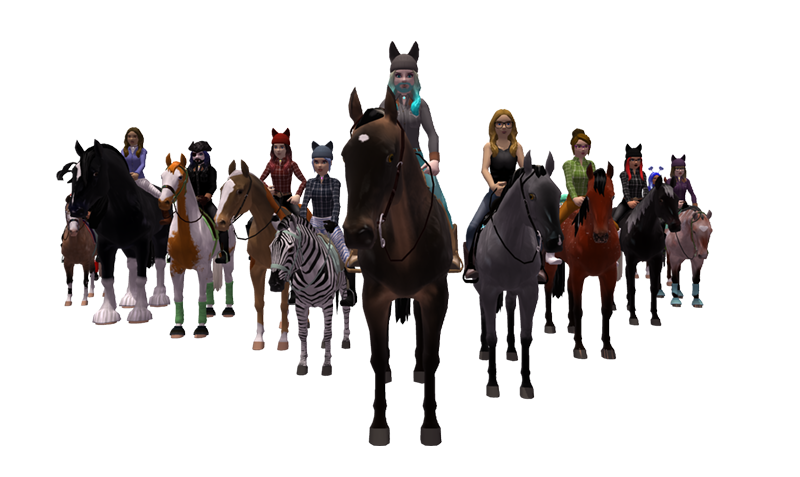 Horse Isle 3 - Infinite Wilds!
Infinite World to Explore, Infinite Genetic Breeding, Infinite Wilds to catch!
Free downloads for MAC, Linux And Windows Computers!

HI3: Infinite Wilds! (Come join the adventure!)
Welcome to the newest in our series of family friendly games made for horse fanatics! Clean, nonviolent fun, with some education tossed in! Grand adventure and real world horse genetics await you in this, our third installment.
HI3 is fully 3D, yet retains the unique charm of the previous games. Your horse's performance and actual look are based on its genetics, just like the real world. No two horses look or behave alike. Come discover your special horses!
Along the way, make friends with some of our great playerbase. HI3 players are helpful and fun folks! This is a special place :)
Create Free Account!
Infinite Wilds:
Infinite World, Infinite Wild Horses & Infinite Horse Genetics Combinations!
Players Currently Online:246 Active Accounts:3873
NEWS: HI3 Client Update v.23b (May 21, 2020)
Additions & Changes:
+ Internally Track certification timing to allow for future timeouts for applications.
+ Full Mutes block mailing now, even if muter is offline now.
+ Closing markup Tags in text areas now require proper opening tags as well. (prevents occasional crashing)
+ Hang glider can now be launched off of buildings, towers, etc...
+ Chatfilter updates
+ Ride-Alongs now penalized during competitions unless course has passengers additional rule set.
+ Mail Missions avoid giving you missions to a Full-Muters ranch. (Can't enter)
+ Horse Trader for Breeder Horses now verifies age of mares acceptable.
+ Can't perform invites with PM Muted players in addition to Full Mute now.

New Player Style Options:
+ Monocle - Available to craft alongside other glasses now.
+ Mustache

A New Gaited Breed:
+ Kentucky Mountain Saddle Horse, including the subtypes:
> > Kentucky Mountain Saddle Horse - Type A
> > Kentucky Mountain Saddle Horse - Type B
> > Spotted Mountain Saddle Horse - Type A (read breeding rules in BBB.)
> > Spotted Mountain Saddle Horse - Type B (read breeding rules in BBB.)

A New Japanese Breed:
+ Kiso

Additional Breed Tweaks:
+ Unlocked tobiano for Swedish Warmbloods (thanks to a player who found an approved stallion).
+ Added way more info about Yakut horses (has now one of the longest breed infos in the game).

Bug Fixes:
- Mane Event after server restart should behave now.
- Fixed "Boats work better in water" message when getting out of kayak on land.
- Fixed bridle warning that occurred after mounting a horse that was bridled while carting.
- Fixed rare crash occurring when dismounting horse in water / lava.
- Fixed problem with seeing other players who are diving under ice appear on top of ice.
- Fixed exploit allowing players to ride foals by spamming the horse cart hotkey.

NEWS: HI3 Client Update v.23a (May 15, 2020)
Additions & Changes:
+ 1+ obstacles now required to show up in course list for competition setup.
+ Ice Skates shortcut info updated. (~)
+ Rain forest ferns diggable
+ Palo Verde Mesa trees diggable
+ Genetics report displays horses through normal sortable panel now.
+ Adding a horse to store displays via sortable panel now.
+ Added Horse Page Shortcut buttons to the bottom of all sorted lists now.
+ Horse hunger, thirst, and stamina bars now update more accurately for placed horses.
+ Decreased the likeliness that wilds will wander into the water.
+ Appearance editor now has buttons for removing certain clothing items or resetting to the default.
+ Clothing items in appearance editor are now grouped together by type for more logical browsing.
+ Added a Mane Event button to [COURSES] at top when active.
+ Surrogate mares can now be put in pens.

Horse Terrain Poll:
+ Poll was almost an exact even split between reverting vs improving. But, we're just taking the simpler path of reverting for now at least. There are some unfortunate bugs that may become more of an issue in the future that this was the only solution for, so, in the future we may still have to find a balanced solution.

New Player Hairstyles (More Bangs For Your Buck):
+ Shoulder Length With Straight Bangs
+ Short Crop With Bangs
+ Messy Bangs
+ Angled Bangs

New Weekly Challenges System:
+ 3 different challenges will be running for a week until payouts
+ Random different challenges, from Horse ridden distance to essence collection, etc.
+ Type %CHAL to see current status, or click [PLAYERS] and it's at bottom.
+ Payout is 4 Esroh Essence for top 10, 2 for top 100. And 100 dust for each player beat in the top 100. (max = 10k)
+ Tie handling: ties get same placing, but push back others. So you might see: 1st, 1st, 1st, 4th, 5th When 3 tie for 1st.
+ NOTE: Any placement changes take up to a minute to update after increases to score.

A New Cob Breed:
+ Norman Cob

A New Feral Breed:
+ Kaimanawa

A New Small Horse:
+ Yakut, including the subtypes:
> > Middle Kolyma Yakut
> > Larger Southern Yakut
> > Smaller Southern Yakut

Additional Breed Tweaks:
+ Fixed "????" in Hungarian Coldblood breed info.

Bug Fixes:
- Hot air balloon hotkey fixed, no longer triggered by magic string hotkey in caves.
- Ski and Hang Glider sounds now controllable via the World Volume setting.
- Fixed issue where player would be bucked, or horse would get scared/injured before it was fully loaded and would leave a ghost horse.
- Potential fix for riders being placed under their horses!
- Fix for Player InitializeMesh exception.
- Fix for repeated MapClamped Inverted Warning.
- Potential fix for players shape-shifting to a ghost after they were an animal.
- Fix for not being able to feed horses after removing a cart.
- Fixed issue with horse stat bars flashing different values randomly.
- Fixed the %pokehorse while in ocean exploit.

NEWS: HI3 Client Update v.22c (May 8, 2020)
Additions & Changes:
+ Improved horse collision with steep mountain / canyon walls. Horse head no longer gets embedded in the terrain wall.
+ Holiday tree no longer buildable until Nov 1st. Should be removable also.
+ Surrogate breedings will now (for future breedings) state "Bred By" the stallion owner.
+ Alpha'd Club member list.
+ Alpha'd Party member list.

Two New Draft Breeds:
+ Hungarian Coldblood
+ Murakoz

Bug Fixes:
- Horse Lists should no longer repeat a horse from last page.
- Optimized the performance of non-player horses.
- Active course obstacle marker now visible at start gate when re-trying course.
- Can no longer chicken dance on hang glider.
- Fixed issue with certain cave entrances causing player to get stuck inside cave walls.