Come Join The Infinite Wilds!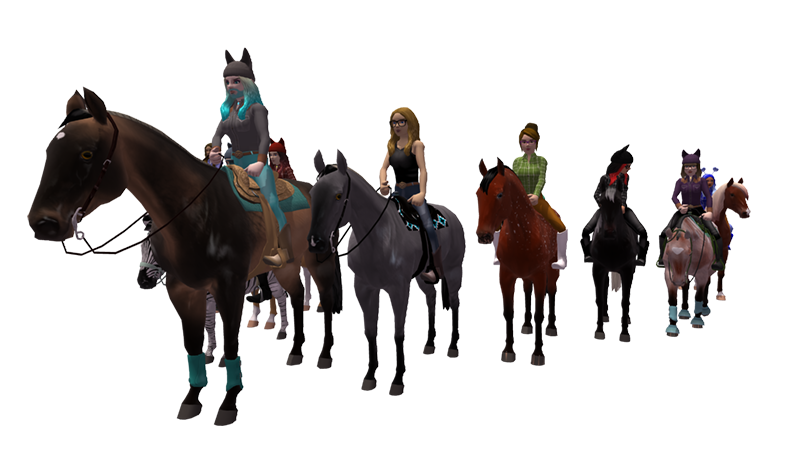 Horse Isle 3 - Infinite Wilds!
Infinite World to Explore, Infinite Genetic Breeding, Infinite Wilds to catch!
Free downloads for MAC, Linux And Windows Computers!

HI3: Infinite Wilds! (Come join the adventure!)
Welcome to the newest in our series of family friendly games made for horse fanatics! Clean, nonviolent fun, with some education tossed in! Grand adventure and real world horse genetics await you in this, our third installment.
HI3 is fully 3D, yet retains the unique charm of the previous games. Your horse's performance and actual look are based on its genetics, just like the real world. No two horses look or behave alike. Come discover your special horses!
Along the way, make friends with some of our great playerbase. HI3 players are helpful and fun folks! This is a special place :)
Create Free Account!
Infinite Wilds:
Infinite World, Infinite Wild Horses & Infinite Horse Genetics Combinations!
Players Currently Online:171 Active Accounts:3458
NEWS: HI3 Client Update v.31b (September 17, 2020)
Additions & Changes:
+ Parcel boundary preview now allowed even if do not have another parcel unlocked yet (v31a)
+ Reduced new transition fadeout time by 20% (4s instead of 5s)
+ Solid Black (boring) transition option added for those getting motion sickness.
+ Found a 50% performance improvement during transitions
+ Slightly enlarged Epic Discovery Range from 16m to 17m away from center.
+ Added a New Missing Taiga Epic
+ Attempted several fixes for missing text. We were not able to reproduce so can't be sure.
NEWS: HI3 Client Update v.31a (September 16, 2020)
A nice big adventurous update! This update adds some more reasons to get out and explore the world. Enjoy.

Additions & Changes:
+ Fireworks sound effects volume is now controlled by the World Volume setting
+ BGM reduced to 20% (Was 33%) when a Music FX played on top
+ Increased Camera Equipment "Detection" distance from 35m to 50m
+ Location panel now hides to give more room for long panels (Inventory, Horses, Etc.)

Camera Transitions:
+ When Quick Traveling a Camera Transition has been added to fade to black, hiding some of the initial world-building.
+ You can select a preferred transition from the game settings.
+ A Whoosh sound has also been added.

Favorite Human Tweaks:
+ Now ONLY OWNERS can trigger a favorite human, leasees will no longer be credited.
+ IF a horse earned a favorite human with previous owner, new owner can earn it and the 1000 bond bonus. Will say "Different Favorite Human!".
+ The award counter for favorite humans and the mood boost still require no-previous favorite human.
+ Added some emoji hearts.

NPC Addition:
+ Horse Experts now have plenty to talk about.

Savanna Soundtrack Added:
+ Horse Isles Composer has completed the Savanna Biome Original Tracks.
+ Drum beats and an occasional heavy melody!

EPICS:
+ Epics are over 30 discoverable interesting things in the world (Previously marked by Obelisks).
+ For the most part, they are not interactable. Just to "Look at".
+ First player to walk near an Epic is recorded as the permanent discoverer.
+ "Epic Discovery" award added and earned for each initial discovery.
+ Discoverers will earn a valuable "Epic Medallion". Hold onto them for a future use!
+ Photography challenge added for each Epic Type.
+ Each Biome has it's own unique Epics.
+ Sunken shipwrecks in oceans also give a random gold dust treasure to first discoverer.

More Gaited Breeds:
+ McCurdy Plantation Horse, including the subtype:
> > Appendix McCurdy Plantation Horse (read breeding rules in BBB)

New Draft Breeds:
+ Hispano-Breton
+ Voronezh Coach Horse, including the subtypes:
> > Heavy Voronezh Coach Horse
> > Intermediate Voronezh Coach Horse (read breeding rules in BBB)
> > Light Voronezh Coach Horse

Additional Breed Tweaks:
+ Added more info about the Merens.
+ Fixed glitch with non-flaxen chestnuts among French Chasers.
+ Updated "BBB" info about Anglo-Arabs (now lists which colors patterns are/aren't allowed).

NEWS: Responsible Action Taken For Our Kids And Young Players (September 5, 2020)
All of HI3 Development and Enjoyment has gone Carbon Neutral

Chris and I (Joe) Core Developers of HI3 have young kids. It is clear to us that any action we can take to help leave ours and other kids a comfortable planet is worth taking. To that end, we are doing what we can for ourselves and players to reduce and repay our carbon use.

HI3's development has been kept pretty efficient. We all have completely worked remotely in home offices, and made other personal choices to reduce our carbon footprints. The Games are inescapably going to use some carbon, however, simply due to using electricity. Our plan with this is to fund a reputable Carbon Offsetter (a company that supports projects that reduce the amount of carbon). We will do it for not only our personal and servers' carbon usage, but ALL OF OUR PLAYERS' time spent on the game for the year! So, you can feel a little better about your own involvement in this issue.

Additionally, we would like to give each of you the opportunity to take a little of your own action! To this end we will be offering free 30 days membership added to your account upon taking some additional action of your own, See details below! It's important to take direct action when possible as carbon offsets are not perfect. But if everyone does what they easily can, It would make a huge difference.

Thanks Everyone!
-Joe

30 day free membership climate challenge: To be credited, simply make a real and additional effort due to this challenge (don't tell us about something you already do) and email climate@horseisle.com with your playername (PlayerID also helps) and a brief message explaining what you did to earn the bonus.
Options include:
+ Planting a tree or native flower bed on land you own or get permission.
+ Riding a bicycle or walking when you would have otherwise driven several times.
+ Reduce some meat consumption by replacing a few meat meals with veggie alternatives.
(Joe's Favorites: hummus, blackbean burritos, & Indian sauces! Chris has veggie shakes for some lunches).
+ Committing to using reusable grocery bags, or otherwise reducing plastic waste.
+ Other clearly impactful actions welcome as well.
Email by October 1st, 2020 and then we will review and credit soon after!

========================================================================================

For those who are interested in our math, we will share it below for the sake of transparency:
--------------------------------------------------------------------------
Total electricity usage for entirety of HI3 Game:
+ Our Personal Workstations: 4pcs x 500watts x 12hrs x 280 work days = 6,720kw hrs
+ HI3 Servers: 3machines x 500watts x 24hrs x 365days = 13,140kw hrs
+ Past Years HI3 development: roughly above (20,000kwh) x 2.5yrs devel = 50,000kw hrs
+ ALL HI3 Players: 128k hrs/mo x 12 mo x 250watts avg(50% laptops) = 384,000kw hrs

Total: 450,000kw hrs x 200% over estimation to cover networking and misc = 900,000kw hrs (over estimated)
-----------------------------------------------------------------------------
Offsetting that carbon usage:
+ We decided to go with CoolEffect.org. After research they appear legit and 90%+ of funds go directly to projects.
+ We used their calculator for power usage and entered 75,000kWh monthly. (900k/12mo)
+ This resulted in 501 tonnes of carbon needing offset @ $7.78 each

TOTAL: $3,897.78 we paid to offset emissions for us and everyone enjoying HI3. Payment certificate linked on Road Map page at bottom of HI3 website.