Come Join The Infinite Wilds!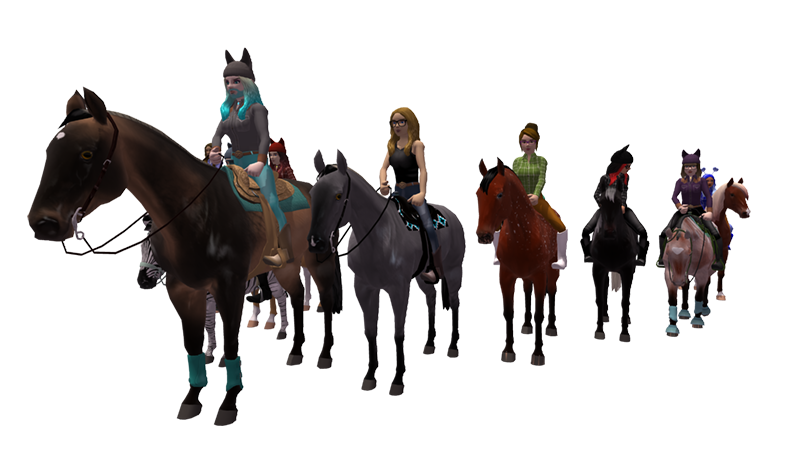 Horse Isle 3 - Infinite Wilds!
Infinite World to Explore, Infinite Genetic Breeding, Infinite Wilds to catch!
Free downloads for MAC, Linux And Windows Computers!

HI3: Infinite Wilds! (Come join the adventure!)
Welcome to the newest in our series of family friendly games made for horse fanatics! Clean, nonviolent fun, with some education tossed in! Grand adventure and real world horse genetics await you in this, our third installment.
HI3 is fully 3D, yet retains the unique charm of the previous games. Your horse's performance and actual look are based on its genetics, just like the real world. No two horses look or behave alike. Come discover your special horses!
Along the way, make friends with some of our great playerbase. HI3 players are helpful and fun folks! This is a special place :)
Create Free Account!
Infinite Wilds:
Infinite World, Infinite Wild Horses & Infinite Horse Genetics Combinations!
Players Currently Online:171 Active Accounts:3458
NEWS: HI3 Client Update v.40b (May 4, 2021)
This minor bugfix update did not require a server restart, so players will get it upon relogin.

Bug Fixes:
- Fixed crash when viewing the genetics report of certain zebras.
- Capitalized "chestnut" in zorse coat names.
- added apostrophe to Grevy's Zebra.
- Accidental shift to blue in Grevy's Zebra right eye fixed.
- Closing map while on horseback no longer dismounts horse.

NEWS: HI3 Client Update v.40a - The Zebra-ing (May 4, 2021)
Zebras! It's here! The zebra update! A huge amount of work went into this by Pathfinder and WiseBlueberry. We hope you enjoy their attention to detail and variation. Please note: These are new, so it is possible bugs may exist, if a Zebroid looks entirely goofy we may have yet to fix that case, just let us know. Otherwise enjoy the random mixings!

Additions & Changes:
+ Highlights redone on high shaved / low shaved tail to make dark tails less flat.
+ Reduced the sensitivity of the single click reset of camera angle in default 3rd person view.

Seasonal Mobia Items:
+ Zebra pattern pants added to Mobia store. They are frightful, so making a store item to reduce quantity! :) (white + dyeable stripes)
+ Horse Isle Anniversary Zebra hat added for sale at Mobia store for May 4th and 5th only. (white + dyeable stripes)

Zebras & Zebroids:
+ Several breeds of Zebras and 4 types of zebroids added!
+ NOTE: All hybrids are infertile, and cannot be bred.
> > Zorse is from a Mother Horse and Father Zebra. (Infertile)
> > Hebra is from a Mother Zebra and Father Horse. (Infertile)
> > Zonkey is from a Mother Donkey and Father Zebra. (Infertile)
> > Donkra is from a Mother Zebra and Father Donkey. (Infertile)
+ Different types of wild zebras spawn commonly in Savanna, seldomly in mesa and rarely in salt flats.
+ Note: you cannot get "Perfect" persona in Zebras, they have a different min/max for some of the traits. They have slightly different personalities from horses, so they don't use the full range on chart for everything.
+ Zebras can have 'white' somatic mutations (flash/bird/bleach) although these are hard to see.
+ Zorses/Hebras can have all of the somatic mutations found in horses.
+ Zedonks/Donkras can have all of the somatic mutations found in donkeys.

New Donkey and Zebra Behavior:
+ Donkeys will stubbornly resist starting to move, or accelerating commonly while < 5000 exp now.
+ Zebras will buck often just due to general orneryness when < 5000 exp.

Seven New Species And Subspecies Of Zebras:
+ Grevy Zebra
+ Mountain Zebra, including the subtypes:
> > Cape Mountain Zebra
> > Hartmann's Mountain Zebra
+ Plains Zebra
> > Burchell's Zebra
> > Rau Quagga (READ breed info)

A New Zorse Breed:
+ Zetland (read breed info). (Infertile)

Two New Hinny Types:
+ Miniature Hinny (Infertile)
+ Saddle Hinny (Infertile)
+ Draft Hinny (Infertile)

Bug Fixes:
- Tail bow is no longer floating on equines with a shaved tail.
- Cart passengers no longer ride horse when in hidden mode (F9).

NEWS: Server Upgrade Completed (April 29, 2021)
We upgraded the main HI3 Game Server Today from 2:13pm to 2:33pm (EST)

This is the highest end server hardware we could rent. (16 x 4.5ghz threads, NVMe SSD, etc)

It's only a 10% to 50% improvement depending on where bottlenecks were at the time. But still should help.

These upgrades may help menu-click-lag and server delays which sometimes show up. It will NOT benefit low FPS lag or similar issues, these are on client end.

Thanks!
-Joe and Team