Come Join The Infinite Wilds!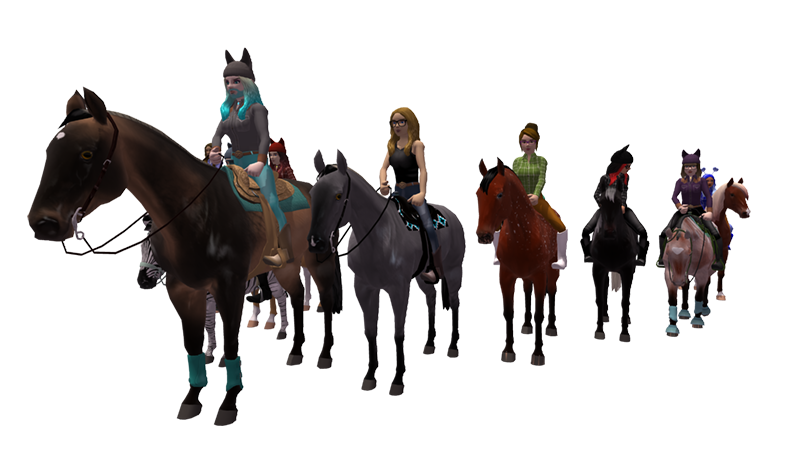 Horse Isle 3 - Infinite Wilds!
Infinite World to Explore, Infinite Genetic Breeding, Infinite Wilds to catch!
Free downloads for MAC, Linux And Windows Computers!

HI3: Infinite Wilds! (Come join the adventure!)
Welcome to the newest in our series of family friendly games made for horse fanatics! Clean, nonviolent fun, with some education tossed in! Grand adventure and real world horse genetics await you in this, our third installment.
HI3 is fully 3D, yet retains the unique charm of the previous games. Your horse's performance and actual look are based on its genetics, just like the real world. No two horses look or behave alike. Come discover your special horses!
Along the way, make friends with some of our great playerbase. HI3 players are helpful and fun folks! This is a special place :)
Create Free Account!
Infinite Wilds:
Infinite World, Infinite Wild Horses & Infinite Horse Genetics Combinations!
Players Currently Online:98 Active Accounts:3529
NEWS: HI3 Client Update v.28b (August 4, 2020)
A Quick Update fix to the crash introduced with v28a.

Bug Fixes:
- Petting horses crash fixed.

NEWS: HI3 Client Update v.28a (August 4, 2020)
Alas! Chris tried his best, but these are likely the end of style-able manes for foreseeable future. Hope you enjoy hunter braids!

Additions & Changes:
+ The physics and animation of the original tail model were redone. This fixes the unnatural jagged end of the tail that occurred when horses were running.
+ The dye color "Vodka" was replaced with "Morning Sky"
+ Dye Station now offers dyeing/bleaching items broken up into sub categories for easier browsing.
+ Dye Station now alphabetically lists items for dyeing/bleaching
+ Un-prefixing can now be accomplished via player trading. Simply offer an unprefixing WHILE trading with prefix owner. Much safer than exchanging horses to accomplish same, and no bond reset.
+ Horse Absolute Max Finally adjusted from 400,+400,+400 to 300,+400,+500 discussed months ago. most folks will not notice.
+ Updated the logout screen to make it clear when the game has ended due to connectivity issues. (Internet/Wifi Disconnections)

New Manes:
+ Hunter Braids Mane
+ Tricolor Standing Mane
+ Polka Dot Standing Mane

Instrument Models and Animations:
+ Half of instruments now show in game for a nice touch.
+ Banjo, BottleBlow, Dulcimer, Flute, FrenchHorn, Guitar, Harmonica
+ Oboe, Sitar, TaikoDrum, TinkerBell, Tom, Trumpet

NPC Addition:
+ The Trainers now have lots of information to share with you.

A New Draft breed:
+ Vladimir Heavy Draft

A New Leopard Breed:
+ Altai

Bug Fixes:
- Fixed "Throwable Object Splat" crash.
- Convoluted bug which would mis-direct horse stamina display corrected.
- A few chat filter fixes.
NEWS: HI3 Client Update v.27c (July 23, 2020)
Changes to Composite Chart Clipboard Copying:
+ Added Mass to Clipboard clicks on Composite Stats.
+ Ordered clipboard copied stats same order as displayed on chart. (Sorry if this messes folks up. Hopefully you can just drag and drop existing columns in spreadsheet)
+ Fixed the 4yo Composite chart not copying glitch.

Bug Fixes:
- Fixed tack bonus duplication for placed / profile horses.