Come Join The Infinite Wilds!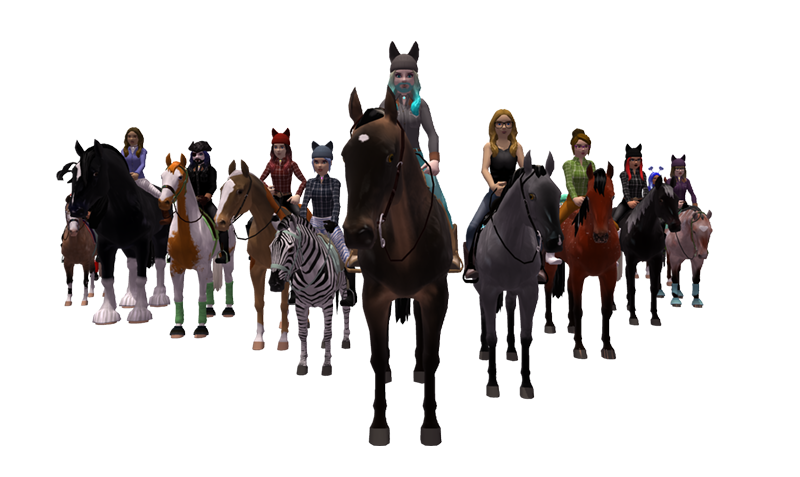 Horse Isle 3 - Infinite Wilds!
Infinite World to Explore, Infinite Genetic Breeding, Infinite Wilds to catch!
Free downloads for MAC, Linux And Windows Computers!

HI3: Infinite Wilds! (Come join the adventure!)
Welcome to the newest in our series of family friendly games made for horse fanatics! Clean, nonviolent fun, with some education tossed in! Grand adventure and real world horse genetics await you in this, our third installment.
HI3 is fully 3D, yet retains the unique charm of the previous games. Your horse's performance and actual look are based on its genetics, just like the real world. No two horses look or behave alike. Come discover your special horses!
Along the way, make friends with some of our great playerbase. HI3 players are helpful and fun folks! This is a special place :)
Create Free Account!
Infinite Wilds:
Infinite World, Infinite Wild Horses & Infinite Horse Genetics Combinations!
Players Currently Online:171 Active Accounts:3458
NEWS: HI3 Client Update v.34c (November 25, 2020)
Additions & Changes:
+ Allow clicking TACK on other horses, to view imbuements.
+ Super Orders will now try to show same horse if you open up a different window, or help center opens up, and then you go back. (still resets if you close windows)
+ Horse Traders will now also buy plushies at $500 gd each.
+ Tack Interface has been completely redone to only show one type of tack at a time.
+ Club owners now have an expensive option ($100k) to delete buggy quests by ex-clubbies. [Manage Quests].
+ Added a big speedup for common breed identification when mother/father are same breed. (only check if same breed valid)
+ Course list limit increased from 100 to 200 on Comp Board.

Additional Re-Identification Options Added. You may toggle to:
+ Mother's Breed - Will offer identifying to mother's breed if within conformation specs.
+ Fathers's Breed - Will offer identifying to fathers's breed if within conformation specs.
+ Other PureBred - Will attempt to match the best conforming purebreeding option. (Rarely applies)

Nearly Unreachable Long-Term Goals for Additional Tomes Added:
+ 2nd XP Tome @ 10 million XP (someone has 8mill now)
+ 2nd QP Tome at 100k (several have +70k now)
+ 2nd PP Tome at 100k (someone has 85k now)

Donkey Preview:
+ Donkeys are not yet fully complete (not orderable). But this update will allow you to see them in the Library.
+ Lots of work under the hood is being done to support alternative equines :)

Additional Breed Tweaks:
+ Added curly to Missouri Fox Trotters (thanks to a RL registered stock).

Bug Fixes:
- Prevent going over inventory max when you have none of an item, and acquire beyond max of item.
- Fixed Critters occasionally showing up at water level, separate from horses.
- Added Back Button To COURSES Button when applicable.
- Fixed [?] Help menu to not break back-button functionality.
- Fixed [HORSES] Button to not break back-button functionality.
- Two awards were called "Challenger". one renamed to "Weekly Challenger" unfortunately, the previous counts will be mixed up!
NEWS: HI3 Client Update v.34b (November 13, 2020)
Additions & Changes:
+ Fixed the mosaic horses impacted from v34a earlier today

NEWS: HI3 Client Update v.34a (November 13, 2020)
Fun additions for this update! The oceans should feel more alive and Plushies should be a fun addition.

Additions & Changes:
+ Removed the "Bareback Pro" Message from popping up when conditions met.
+ Minor Boost to Red Imbuement Crystal Spawn.
+ Tea Leaves show up on Lowest setting now.
+ Mane Event: Increased random spawn position from +/- 5m to +/- 20m from course start.
+ Picnic Bench and Park Bench Club colors changed to Custom Trim colors instead of green.
+ Wonderland small mushrooms have had colliders removed.
+ After 7 days Certifications may now be "Canceled" refunding the application and acceptance fees back to player.
+ Shopping Board Item searches are now pre-divided into 4 sub categories for easier browsing.

New Land Critter!:
+ Elephant and Baby Elephants added to Savanna!
+ New elephant photo and shapeshifting opportunities.

Ocean Mega Fauna Added!:
+ Blue Whales and rarely Giant Squids may now be spotted swimming the deep oceans!
+ Great Whites and Sword Fish may be found in Temperate oceans.
+ Dolphins, Dugongs, Mola Molas, Sea Turtles, Hammerheads, and Manta Rays may be found in warmer oceans.
+ Rarest are the Mola Mola :)
+ Also photography challenges for all of these.

Plushies Added!:
+ 42 different plushie animals added. Non-dyeable and non-imbueable.
+ New "Plushie" tack slot with same possible tack bonuses as saddle pad.
+ These little guys sit on the horses rump and are clipped in place safely.
+ Plushies may be discovered randomly in new "findable" crates in Caverns.
+ Cuddly Collector award tracker added for each crate opened.
+ Discovered plushies also come with a random imbuement that can not be modified.
+ Plushies with high imbuements will be rare and valuable finds!
+ Plushies are found with a minimum of 7 random imbuements. (no max)
+ "Lucky Plushie" Tome Added -- Doubles the permanent minimum random imbuements of found plushies from 7 to 14. (max not changed)
+ Library reference for plushies added.

A New Sport Breed:
+ Latvian, including the subtypes:
> > Latvian Riding Horse (read color & breeding info).
> > Latvian Sport Horse (read color & breeding info).

Additional Breed Tweaks:
+ Added info about the history and conformation of the Latvian Draft.
+ Added Belgian Halfblood to purebreeding list of Zangersheides (Zangs x B. Halfblood can now born 100% pure Zangs).
+ Foundation Morgans can now rarely have louder markings (thanks to a RL registered stallion).
+ Updated color list for Nez Perce Horse in the BBB.

Bug Fixes:
- SPD and END Village trainer sign colors swapped properly.
- A Few other misc fixes