Come Join The Infinite Wilds!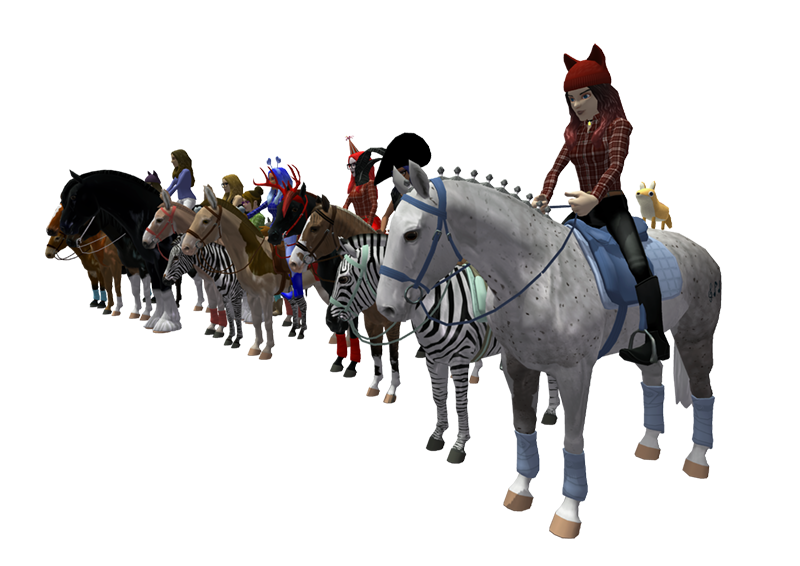 Horse Isle 3 - Infinite Wilds!
Infinite World to Explore, Infinite Genetic Breeding, Infinite Wilds to catch!
Free downloads for MAC, Linux And Windows Computers!

HI3: Infinite Wilds! (Come join the adventure!)
Welcome to the newest in our series of family friendly games made for horse fanatics! Clean, nonviolent fun, with some education tossed in! Grand adventure and real world horse genetics await you in this, our third installment.
HI3 is fully 3D, yet retains the unique charm of the previous games. Your horse's performance and actual look are based on its genetics, just like the real world. No two horses look or behave alike. Come discover your special horses!
Along the way, make friends with some of our great playerbase. HI3 players are helpful and fun folks! This is a special place :)
Create Free Account!
Infinite Wilds:
Infinite World, Infinite Wild Horses & Infinite Horse Genetics Combinations!
Players Currently Online:171 Active Accounts:3458
NEWS: HI3 Client Update v.38a (March 3, 2021)
Additions & Changes:
+ Plushie Pedestals - a New Ranch Decoration!
> > Note: Plushie Destroyed after affixing to pedestal, so take care not to use high-stat ones.
+ Added Plushie-on-pedestal photography challenge. (104 to collect!)
+ Broke up list of current competitions by club.
+ Transmutatio and Adsimulo amulets automatically are removed upon breeding and placed back in Mare owners inventory.
+ Liriope Diggable
+ Added 12hr lease option.
+ Reduced tags [Tack] to [T] and [Saddled] to [S] in horse lists for less used space. Colored them purple and green respectively.
+ Common Dark Forest Trees now choppable.
+ Trader List now shows actual money you would earn (+$200 and tome taken into account)
+ F9 Toggles temporarily hides all other players and non-wild horses for performance boost (Especially during Mane Events)
+ Hiding shopping board Sell-To stores who have full quantity (9999)
+ Horse store purchasing includes confirmation clicks now.
+ Added Quick Travel Buttons to players-by-club listing.

Ostlery Improvements:
+ Ostlery Fees reduced in half
+ "Ostlery Club" tome available to learn for 50% discount at Ostlers.
+ Ostlers now offer a CARE ALL option, priced at $400 each per all your horses. ($200 with tome)

Certification Improvements:
+ Normal entire list is broken up into category pages now.
+ Additional option to search certifications by player offering them if know the name.
+ New Option of listing certs by certain keywords present in the details.
+ Removed the distracting formatting tags shown in summary listings.
+ Adding ability for HI3 Support tickets to fix grammatical or clarification errors on Certs one time. No meaningful changes allowed.

New Saddle Breeds:
+ American Cream and White Horse, including the subtypes:
> > American Cream Horse
> > American White Horse
+ Carolina Marsh Tacky (can be gaited, read breeding rules)

Additional Breed Tweaks:
+ Added more info about the Lithuanian Heavy Draft.
+ Re-categorized some types of grade ponies as 'grade ponies' instead of 'warmblood horses'.

Bug Fixes:
- Limited store inventory quantity to 9999 in a missing spot.
> > Note: for those few players with over 9999 item quantity in an store, please reduce by selling or removing soon as a future update may wipe the overage out.
- Hitting x while rotating an existing building will replace it now.
- Clicking right mouse will no longer improperly allow repositioning of an existing building now.
- Quantity of Horse count tracking lost when using trader fixed. (should be fewer cases of going over horse max)
- Ranch and Club re-colorings will not mess up the planter's plants.
- Horses Will state "Saddled" when applied via Tack Set properly now. ( [S] now instead of [T] )
- Allow inbreeding via trade after warning given now.
- Plushies are now properly hidden when horse is in proxy mode (transparent sphere).
- Proxy spheres are now more efficient.

NEWS: HI3 Client Update v.37a (February 10, 2021)
Hey everyone, we are still hard at work and many weeks away from any end-of-alphabet equine additions. But in the mean time, this update should add some fun content for everyone, Enjoy!

Note: A side effect of the Unity update this time, folks may have to reset their resolution and window options at startup. Then all should be normal.

Additions & Changes:
+ Prevent having too-similar of pants or top colors as skin tone.
> > Anyone who has "flesh" colors is asked to change to allowed colors now, or face a ban.
+ Added Maximum Items you can hold to [Myself] page info.
+ Instruments may now have their octaves shifted, Left Shift presses move lower, right shift for higher.
+ Limited to 50 players nearby to start an instrument now.
+ When About->Rotate-ing existing ranch and club objects they now start at current rotation, and correctly show planters, etc.
+ Bug-Fix Updated our Unity Build Platform, hopefully some random issues/crashes will be reduced.
+ Transmutio will no longer randomly tweak Genes for non-horses. It will still increase trait and other variations, but can not safely tweak proper genes since many combinations are invalid for non-horses.

More Planterables:
+ New Huge Planter option.
+ New Huge Options: acacia, giant flower, mushroom, cypress, oak, mohogany, sitka spruce, kauri
+ Added plantability: barrel cactus, mangrove, snow ghost, candy cane, snow ghost, honey tree, strangler fig, mushroom, campion, ice berry, artemesia, spider bush, prickly pear, mushroom
+ Planters also allow custom rotations properly now.

49 New Plushies!:
+ Arowana, Bat, Beaver, Bighorn, Camel, Carp, Clownfish, Cobra, Coyote, Crab, Crocodile
Dolphin, Emu, Gila Monster, Golden Eagle, Gorilla, Horned Lizard, Kangaroo, Kingfisher
Koala, Kookaburra, Lobster, Manatee, Orca, Panda, Peacock, Pelican, Platypus, Possum
Pronghorn, Quokka, Rattlesnake, Red Panda, Seahorse, Sea Otter, Snapping Turtle, Squid
Swan, Tapir, Tasmanian Devil, Tiger, Wombat
+ Fantasy: Pegasus, Unicorn, Dragon (Earth), Dragon (Fire), Dragon (Ice), Dragon (Water)

Two New Riding Breeds:
+ Costa Rican Saddle Horse (gaited, comes in dominant white + frame-overo)
+ Fleuve

A New Crossbreed:
+ Aegidienberger (Icelandic x Peruvian Paso; gaited)

A New Heavy Draft:
+ Lithuanian Heavy Draft

Additional Breed Tweaks:
+ Removed penalties for frame-overo, white-spotted, splash-white, and manchado from Irish Sport Horse.
+ Percheron tweaks: added seal brown, added flaxen [chestnut], increased maximal limit for white markings (=> Perchrons can now be mosaic).
+ Updated color info in BBB for both of these breeds to the new format.
+ Curly coat is now more common among Lokai horses.

Bug Fixes:
- Essence Star heading location should now work.
- Store icons no longer disappear with Ram Reduction enabled.
- Potential fix for "Set Blend Shapes" null reference error when playing instruments.
- Seahorse no longer rotates with mouse movement in Classic 3PV.
- Mobia-Max-Horse unlocks fixed to require 50% of YOUR horse max, rather than a global max. (Does not require subscription)


NEWS: Gypsy Vanners Poll Result (January 31, 2021)
Per the poll about whether to change the name of Gypsy Vanners to Just "Vanners" The following will result:

1) Since the Poll was in favor of keeping the name (57% of all players after 48hrs) The name will stay for now.

2) This is the end of discussion over it. Anyone causing drama or grief over this will get a ban. This is one of those issues that needs to just "Stop". There is no perfect answer, other than, letting it go.

3) Unhappy with the result?: Research your arguments fully, then take it to the actual registries. If they change the name we also will. Alternatively, if folks want a RE-Vote, we can consider after 2 Years have passed.

4) Playernames, profiles, and conversation may use the term Gypsy in context with the horses and positive cultural appreciation. Anyone using it in any disparaging way towards the people, will receive an instant and permanent ban. CONTEXT is what matters most in this and many similar issues.

Thanks for your patience folks. Remember in the end, this is just a little horsie game, let's focus on that ;)