Come Join The Infinite Wilds!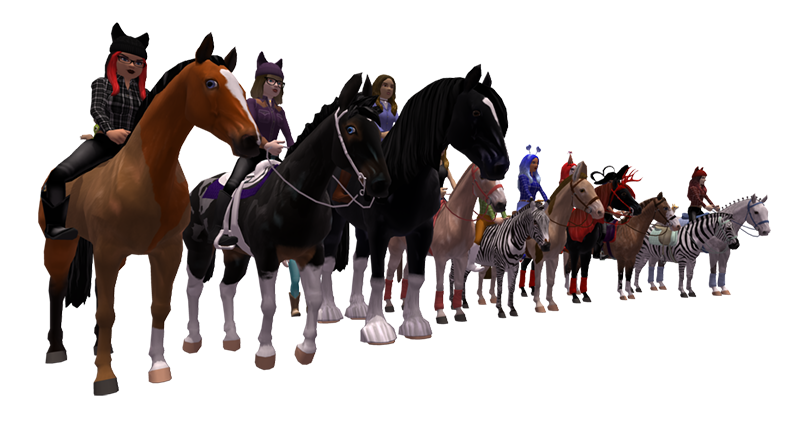 Horse Isle 3 - Infinite Wilds!
Infinite World to Explore, Infinite Genetic Breeding, Infinite Wilds to catch!
Free downloads for MAC, Linux And Windows Computers!

HI3: Infinite Wilds! (Come join the adventure!)
Welcome to the newest in our series of family friendly games made for horse fanatics! Clean, nonviolent fun, with some education tossed in! Grand adventure and real world horse genetics await you in this, our third installment.
HI3 is fully 3D, yet retains the unique charm of the previous games. Your horse's performance and actual look are based on its genetics, just like the real world. No two horses look or behave alike. Come discover your special horses!
Along the way, make friends with some of our great playerbase. HI3 players are helpful and fun folks! This is a special place :)
Create Free Account!
Infinite Wilds:
Infinite World, Infinite Wild Horses & Infinite Horse Genetics Combinations!
Players Currently Online:171 Active Accounts:3458
NEWS: Black Friday (November 26, 2021)
We never run Mobia discounts, as we don't like to devalue previous purchases and cause people to worry about timing purchases. But know that we appreciate your support!

We hope everyone has happy holidays, and know that we are hard at work on your horse world!

P.S. I had a desire to have Black Friday today be completely Night all day long ;) But I was told that would cause mass upset ;) oh well :) we can pretend.
NEWS: HI3 Client Update v.46a (November 23, 2021)
Additions & Changes:
+ Cave affinity will find open caves properly now.
+ No more equine escape artists! Free roaming equines no longer pass through fences.
+ Giving horse trick commands will now cancel free roam or affinity seeking.
+ 0yo and 4yo horse profiles can now be exported.

Climbing Improvements:
+ New player climbing animation by Honeybuns!
+ Upward movement now starts immediately instead of a slow transition.
+ Colliders added to sides of tower ladder to prevent slipping off the side.
+ Can no longer spin around and climb backwards.

New Hat:
+ The slouch beanie is now available in the shop.

A New Hungarian Athletic Breed:
+ Kisber-Felver (good stamina & will be essential for breeding future breeds…)

A New Semi-feral Breed:
+ Dulmen Pony

Kladruby breed now has three subtypes:
+ Black Kladruby (a.k.a black herd)
+ Grey Kladruby (a.k.a grey herd)
+ Red Kladruby (chestnut Kladruby)
+ Each subtype has its own breeding rules and color restrictions, so make sure to read their BBB info before you start breeding for them.
+ Re-identifying your existing Kladruby horses at the horse experts for "best match" will register them as their proper subtype (if they fit any).

Added Performance Metrics & Updated BBB info into the new layout:
+ Azteca
+ Kladruby
+ Standardbred + subtypes

Added New Help Topics:
+ Category: Horses > Genetics
>> Which conformation and hair traits do we have? - a complete list of conformation traits and their roles.
>> Inheritance of conformation - how inheritance of conformation traits works, and recessive traits.
+ Category: Horses > Type of Horses
>> Re-identification: what it is and when to use it - types of re-identification, when to use, when purity will be reset to 0%, and more.

Additional Breed tweaks:
+ Added clarification to Azteca's info regarding not using AQRH/APRH as breeding stock.

Bug Fixes:
- Potential fix for flying foals
- A fixed trade-unprefixing certain prefixes that used to fail.
- Fixed issue with game not loading in windowed mode after a game update. (Might not take effect until next update).
- Fix for unknown chat type crash.
NEWS: HI3 Quick Server Fixes (November 11, 2021)
Quick minor server bug fixes.

Changes and Fixes:
+ Attempting another shot-in-the-dark fix for horse listings. (I need repeatable steps to test fixes yet)
+ Added a "Reset to Current Club" for moving existing quests while in the EDIT state.
+ Fixed the back button when clicking Courses > Mane Event possibly.
+ Added logging when doing rank and All Oster cares.