Our Massive Real World Equine Reference!
[
INDEX
] Equine Type:
Donkey
Breed:
Bourbonnais Donkey
(
Bourbonnais
) [
PREV
] [
NEXT
]
---
The Bourbonnais is a French donkey breed. It is named after the Bourbonnais province (today's Allier) in France, where it originated in the 12th century.
About:
A donkey of medium size, the Bourbonnais was used for pack work, light farm work, especially in vineyards, and for pulling carts with goods or passengers. It continued serving faithfully all the way into the 20th century, when it was replaced by machinery.
Similar to other French donkey breeds, by the end of the 20th century, the Bourbonnais donkey faced extinction. In 1994, the Association of the Bourbonnais Donkey was established with the aim of promoting the breeding of the Bourbonnais donkey. In 2002, the breed was officially recognized by the French government.
Today, the Bourbonnais exists in France in small numbers and is used for recreational driving as well as a pet.
Conformation:
The conformation of the Bourbonnais is characterized by a straight profile, long and straight ears, a muscular neck, a straight back, and wide hooves. The mane is short but the tail can grow long.
Performance metrics:
The following are the: range,
average
, (SD), and MOE of performance metrics of
ordered
Bourbonnais Donkeys in Horse Isle (
not
bred ones). In rare cases,
horses might have metrics outside of the range.
Breeders
can
produce horses that are beyond this range.
Speed:
13.1-14.1,
13.6
(0.2), 0.04.
Sprint:
26-39,
32
(2), 0.43.
Accel:
0.72-0.92,
0.83
(0.04), 0.01.
Decel:
0.81-0.96,
0.87
(0.03), 0.01.
Jump:
4.76-4.99,
4.88
(0.05), 0.01.
Pull:
1.49-2.03,
1.74
(0.11), 0.02.
Turning:
34.26-45.61,
39.98
(2.53), 0.5.
Reverse:
1.7-2.4,
2.1
(0.1), 0.02.
Stamina:
49.28-54.46,
51.93
(0.91), 0.18.
Reaction:
0.73-0.83,
0.78
(0.02), 0.00.
Color & Height:Colors:
brown-black and brown.
Pattern:
always have a shoulder-cross and a dorsal line. The face has light points, and the stomach is white as well. The legs are usually dark. The coat lacks white markings.
Breeding notes:
in order to comply with the coat standard, Bourbonnais donkeys in Horse Isle
must
be heterozygous for mealy (Pgpg). This means that crossing two Bourbonnais donkeys has 50% chance of producing foals that don't fit the breed's coat criteria. However, they can be used as breeding stock for pure Bourbonnais donkeys (see 'Bourbonnais breeding stock' for more info).
Height:
11.2hh to 13hh.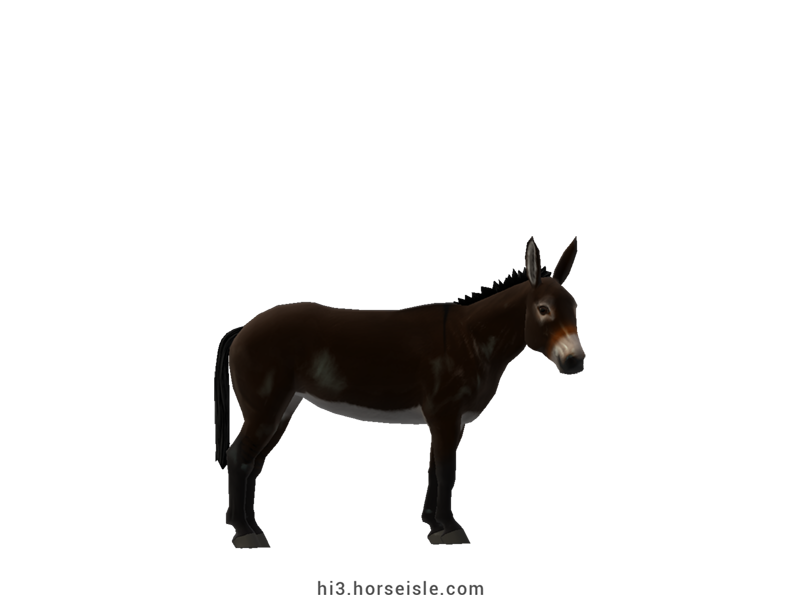 Brown Black Coat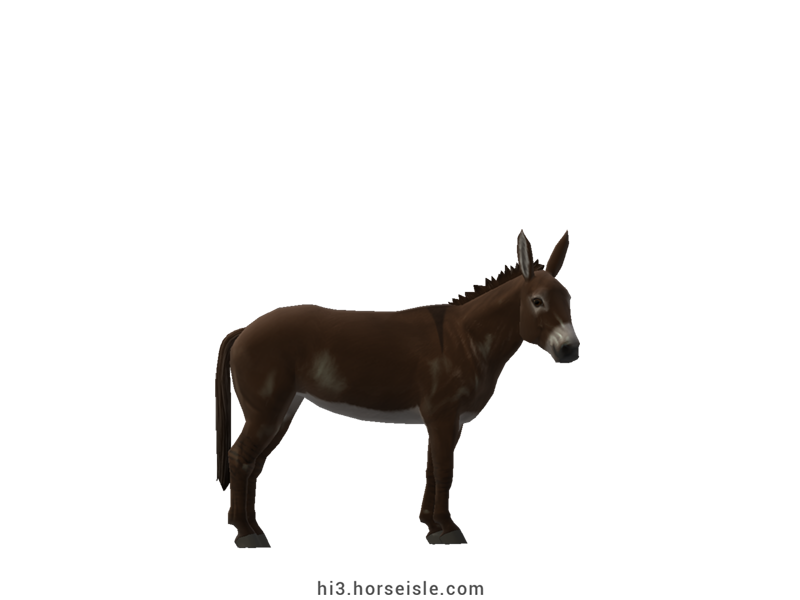 Brown Coat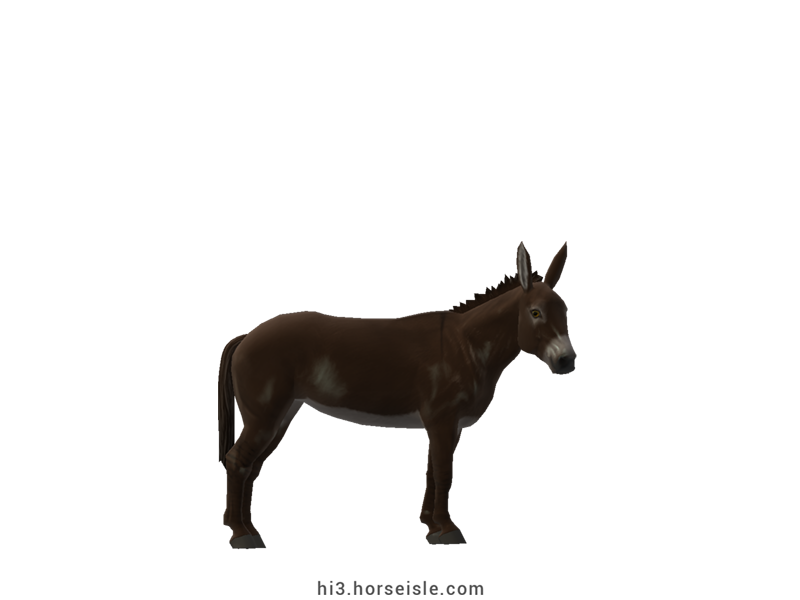 Brown Coat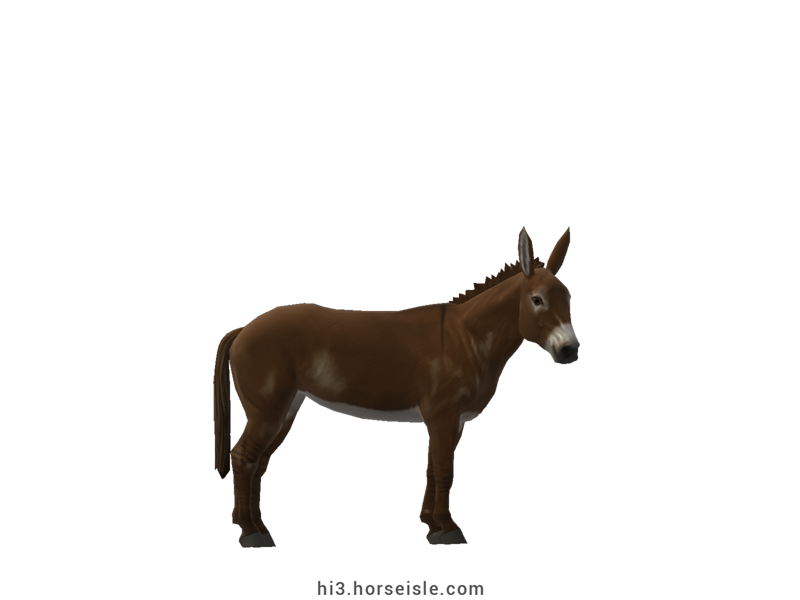 Brown Coat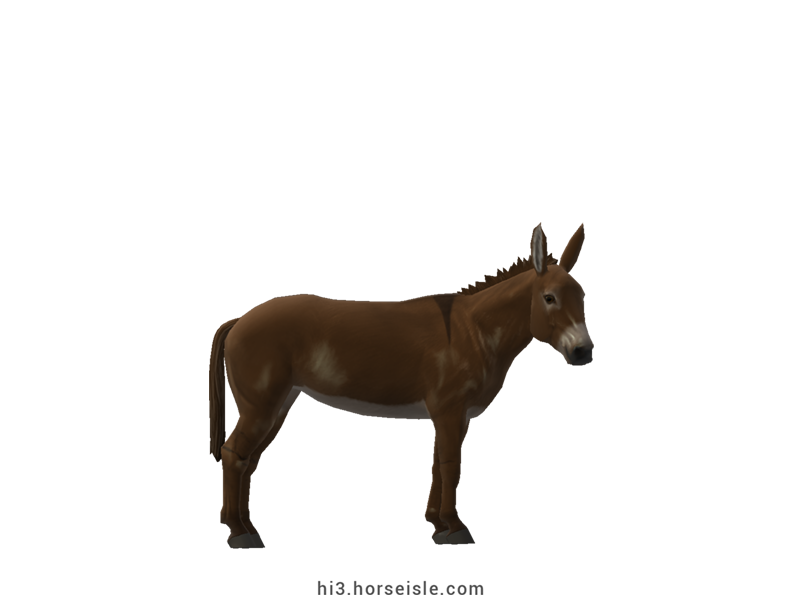 Brown Coat
[
INDEX
] [
PREV
] [
NEXT
]