Our Massive Real World Equine Reference!
[
INDEX
] Equine Type:
Horse
Breed:
Heavenly Tiger Horse
(
Heavenly
) [
PREV
] [
NEXT
]
---
The Heavenly Tiger Horse is one of the two subtypes of the Tiger Horse. The other subtype is the Royalty Tiger Horse.
The real Heavenly Tiger:
The Heavenly registry was created to register non-gaited foals of Tiger Horses, and to register solid-colored offspring (except those who were born to two Royalty parents.) Gaited horses who are a cross between an Appaloosa and a gaited breed, and who have good conformation, can also be registered as Heavenly horses.
Non-gaited Appaloosa horses with a good Soulon conformation and a few-spots coat can also be registered in the Heavenly book and serve as breeding stock.
Heavenly Tigers in Horse Isle:
In Horse Isle, however, the rules for Heavenly Horses are different. First, they must be fully gaited. Second, they come only in solid coats to prevent overlapping with Royalty horses. Last, Appaloosa horses and Appaloosa crosses
cannot
be registered as Heavenly horses.
Conformation:
Same at the Tiger Horse.
Performance metrics:
The following are the: range,
average
, (SD), and MOE of performance metrics of
ordered
Heavenly Tiger Horses in Horse Isle (
not
bred ones). In rare cases,
horses might have metrics outside of the range.
Breeders
can
produce horses that are beyond this range.
Note:
those metrics are identical to those of Tiger Horses.
Speed:
14.6-16.2,
15.3
(0.3), 0.07.
Sprint:
43-57,
50
(3), 0.56.
Accel:
0.85-1.05,
0.95
(0.04), 0.01.
Decel:
0.90-1.03,
0.97
(0.03), 0.01.
Jump:
4.84-5.13,
5.01
(0.06), 0.01.
Pull:
2.20-2.90,
2.59
(0.15), 0.03.
Turning:
48.28-62.73,
54.73
(2.97), 0.58.
Reverse:
2.4-3.0,
2.7
(0.1), 0.03.
Stamina:
44.28-50.30,
47.20
(1.25), 0.24.
Reaction:
0.74-0.83,
0.79
(0.02), 0.00.
Coats & Height:Colors:
bay, black, brown, chestnut, and silver dapple.
Additionals:
flaxen, rabicano, roan, sooty, all rare patterns. The coat is always solid.
Height:
14hh to 16hh.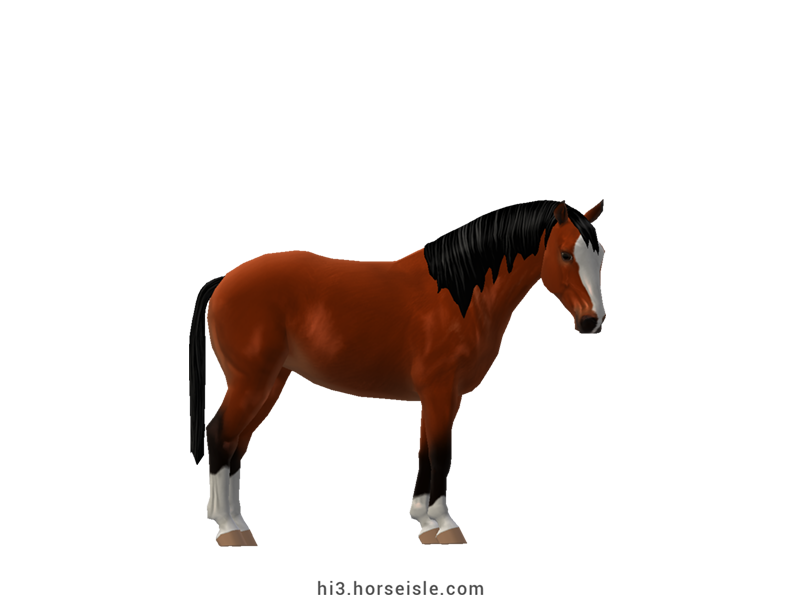 Red Bay Coat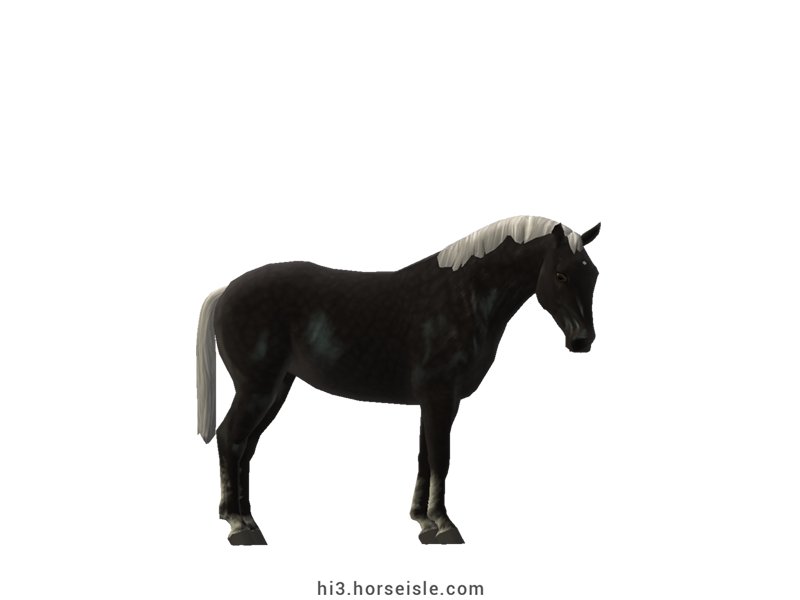 Ebony Blue Silver Coat
Bright Bay Silver Coat
[
INDEX
] [
PREV
] [
NEXT
]