Come Join The Infinite Wilds!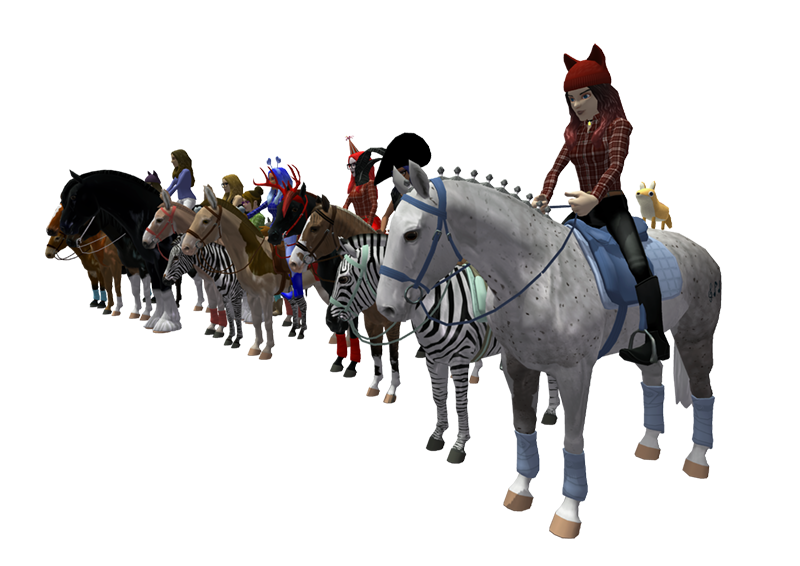 Horse Isle 3 Is Live! (as of ~4pm CST Aug 25th)
We now support MAC Computers! Come download and play!
We now support LINUX Computers! Come download and play!
We now Support Win32 Old Computers! Come Download and play!

HI3: Infinite Wilds! (Come join the adventure!)
Welcome to the newest in our series of family friendly games made for horse fanatics! Clean, nonviolent fun, with some education tossed in! Grand adventure and real world horse genetics await you in this, our third installment.

HI3 is fully 3D, yet retains the unique charm of the previous games. Your horse's performance and actual look are based on its genetics, just like the real world. No two horses look or behave alike. Come discover your special horses!

Along the way, make friends with some of our great playerbase. HI3 players are helpful and fun folks! This is a special place :)

Infinite Wilds: Infinite Map, Infinite Wild Horses & Infinite Horse Genetics Combinations!
Players Currently Online:81 Active Accounts:2845
NEWS: Our Devel Focus (September 12, 2019)
Okay! You guys have spoken.

We will begin working on Player Hairstyles, Horse Leasing, and maybe Skates.
Not sure when we will get done, but guessing 7-10 days.
We will work hard to bring you more content :)

ALSO: Added a few How-To Videos on complicated parts of the Game, find them under HELP CENTER at top, and then videos button at top. Hope it helps someone :)

Thanks all!
-Joe and Team
NEWS: HI3 Client Update v.2d (September 11, 2019)
We made a big effort of clearing out some long standing bugs. Hopefully we actually got a few of them! We will likely transition to another content add cycle now, watch for a poll!

Note: Clothing was reset to improve the system, If you still owned what you were wearing, now you can properly wear the items again. If you had sold your clothes items, you will have to reacquire. more details below.

Additions/Changes:
+ Alpine dead trees diggable
+ cotton plants diggable
+ plum trees diggable (no wood)
+ almond trees diggable (no wood)
+ Prevent replanting of same existing seed type in gardens
+ Everyone's worn clothing reset to make room for:
+ Clothing items now removed from inventory while worn. When taken off, they go back to inventory. no more confusion about dyeing or selling something worn.
+ Horse Jump Landing Animation Stutter removed

Breed Additions:
+ Dartmoor Pony

Bug Fixes:
- POSSIBLE FIX for long standing missing wilds while group adventuring.
- POSSIBLE FIX for Goomba Loomba (Findables not deleted).
- Multiple Journey Quests at once supported now. (fixes travel quests broken for some players)
- Membership benefits title fix
- Hoofsteps sound effects Volume control works again.
- Conformation against sub-breeds now works! (Was reporting against parent breed)

NEWS: HI3 Client Update v.2c (September 10, 2019)
NOTE: Several Quest fixes below. If you have a buggy quest that is LIVE, open a support ticket and We'll set it back for editing for you.

Also: We broke Hooves sound effect volume, will fix tomorrow.

Additions/Changes:
+ Mouse scrolling to ends of menu windows no longer bounces
+ Chat kept scrolling now reliably for all!
+ FPV mode no longer forced inside temples if anti-motionsickness option enabled.
+ Attempting to improve server resets during update (last few were bumpy)
+ We changed setting locations for digging and travel for quests to a button. should create way less problems and headaches.
+ There is now a TESTING phase added to quests. The process now, is:
> > Editing: You build the quest
> > Testing: You must complete it yourself, upon completing it goes to ClubReview
> > ClubReview: Your club managers must deem it worthy and good for their club.
> > ModReview: Staff makes sure content appropriate.
> > Live: Anyone can permanently take on your quest.
+ Parcel buying actually blocks improper parcels now.
+ Footsteps. WIP will try to improve them a bit yet.

Horses Change:
+ Personality breeding will be 50% less random. (more often between parental values.) (less movement)
+ All traits now are slightly more likely to select between parent values rather than outside. (less movement)
+ Odds of recessive traits being used dropped from 16% to 10% per trait. (Less surprises)

Breed Additions:
+ Conformation dealing with mane length cleaned up a bit.
+ Added a clarification to the info about AQHs, that in Horse Isle these horses never carry pinto genes.
+ Arabians can now have more extensive sabino patterns.
+ Iberian Warmblood
+ Brazilian Sport Horse
+ Allowing Ordering of Main Breed Category Grades now. (Hot Blooded/Cold/Warm/Pony)

Bug Fixes:
- Item icons in Library fixed for some mixups.
- Riddle post story problem titles
- Sign "World Object Mismatch" fixed.
- BBB PREV and NEXT buttons fixed to include all horses :)
- Quests 'Club Review' state should show for all Managers+ now properly
- Potential fix for Linux index out of range crashes
- Horse Bond being credited again. (will attempt a +1000 for anyone who did favorite human without credit)