Come Join The Infinite Wilds!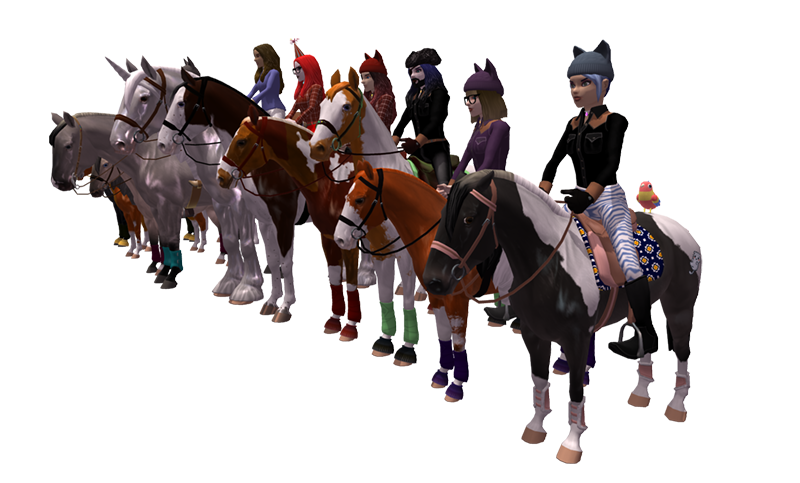 Horse Isle 3 - Infinite Wilds!
Infinite World to Explore, Infinite Genetic Breeding, Infinite Wilds to catch!
Free downloads for MAC, Linux And Windows Computers!

HI3: Infinite Wilds! (Come join the adventure!)
Welcome to the newest in our series of family friendly games made for horse fanatics! Clean, nonviolent fun, with some education tossed in! Grand adventure and real world horse genetics await you in this, our third installment.
HI3 is fully 3D, yet retains the unique charm of the previous games. Your horse's performance and actual look are based on its genetics, just like the real world. No two horses look or behave alike. Come discover your special horses!
Along the way, make friends with some of our great playerbase. HI3 players are helpful and fun folks! This is a special place :)
Create Free Account!
Infinite Wilds:
Infinite World, Infinite Wild Horses & Infinite Horse Genetics Combinations!
Players Currently Online:171 Active Accounts:3458
POLL: Club Record Playing? (login to vote) (Poll started: January 27, 2022)
NEWS: HI3 Client Update v.49a (January 19, 2022)
The "Music to your ears" update. We thought this would add a fun creative outlet for those who enjoy instruments and those who enjoy listening to your fellow players creations. Excited to see what you guys come up with. Enjoy!

Additions & Changes:
+ New clubs now need to be ~20k away from existing clubs(previously ~5k). No change to the size of protected club areas, just makes it so new clubs space themselves out a bit more.
+ Players may now convert more than a single parcel to preserves. This is useful when you want to make some courses and have the area protected. Still 100k for first, then 3x more for each additional. 300k, 900k, etc.
+ We have added [?] Info boxes (beside [X]) to many windows. click the button to get some hints on the current window contents.
+ Courses can now enter up to 20 competitors rather than 16. This is untested and may not format correctly, but we can just see how it works :)

New Music Records:
+ Crafting a permanent record costs 25 mobia each, so be sure to factor this into your sale price and make sure the music is worth it.
+ Records may be listened to directly from inventory, or placed in your Ranch house for playing on your properties.
+ Records placed in your house's record player list will replace the background music for all of your parcels.
+ The records will loop in the order you add them and play for anyone on your parcels.
+ Records can be removed from your ranch house and go back into your inventory.
+ Ranch Record Playback is mostly synchronized across clients. (You can ask what's playing now).
+ Records may be bought and sold as normal items via trading and stores.
+ QUICK MUTE NOTE: Remember you can quick click the monkey-head to right of [?] on button bar to mute the game if you ever encounter an annoying ranch :) (Or leave the ranch) this is nicer and easier than disabling instruments altogether, so you can still enjoy the fun ones :)
+ If your instrument volume is muted in settings, this will prevent Ranch BGM music from fading into the custom music. (It plays at same BGM volume normally)

New Instrument Recording Kit:
+ Players may now make multi-track recordings of their instruments and then sell them as records.
+ Creating recordings requires the Recording Kit. Shortcut for it is on the ";" instrument wheel.
+ Create recordings by pressing the record button (or Left Control), and then live-playing your current instrument.
+ Stop the recording and then repeat again with a different instrument for another track, playing along with yourself.
+ If you record an existing instrument track you clear all that instrument's notes and re-record that part. (only 1 track per instrument)
+ There is a max of 10min (600s) recordings and 1000 notes/keypresses per recording.
+ You can manage your recordings by clicking the "List Recordings" button in the Kit, or by typing chat command: %MUSIC
+ You can only edit your own original recordings, and can only re-save if no records exist for that recording name.
+ Be sure to set Genre appropriately to help others find music they may be interested in.
+ Players may also do commissions and Trade UN-CRAFTED recordings. Note that even as a buyer of this, you wont be able to edit recording, only unlimited record crafting and resale. Be sure to NOT craft a record for commissions.
+ NOTE: Once you craft records from recordings, you cannot trade the recording or delete it (unless all records destroyed)
+ Records are analagous to stickers from Art system, While recordings are like the original Art. Recordings DO NOT require mod approval.

A New Donkey Breed:
+ Bourbonnais Donkey (read coat breeding rules).
> > Bourbonnais Breeding Stock (read breeding rules).

A Small Draft Horse:
+ Pechora

New Sport Breeds:
+ Kabarda, including the subtypes:
> > Basic Kabarda
> > Massive Kabarda
> > Saddle Kabarda
+ Anglo-Kabarda (Kabarda x TB; read breeding and color rules in BBB.)

Added Performance Metrics & Updated BBB info into the new layout:
+ Anglo-Danubian
+ Skyros Pony
+ Toric

Additional Breed Tweaks:
+ Added splashed-white to Fondation Morgans (can now token them).
+ Re-classified the Merens as a draft horse (rather than a pony).
+ Fixed typos in BBB ('rabicnao', 'breedm').

Bug Fixes:
- Fixed incorrect horse tilt when mounting on a slope.
- Beginner Bird hint text is now hidden if beginner mode is disabled.
- Prevent modifying sell status or train status for leased horses when using commands %SELLRANK, etc.
- Fixed a rare wrong-horse-learning-trick bug.
- Fixed Lead Rope Equipment null reference bug.
- Fixed crash that can occur when exporting horse profiles.
- Added prevention for horses going underwater when players quick travel to a water location.
- Fixed bug causing horse ears to display at an odd angle during profile export.
NEWS: HI3 Client Update v.48a (January 4, 2022)
Additions & Changes:
+ You gain 10PP for completing Favorite Human challenges now.
+ Added EXP back for horse injuries, ranging from original 50 down to 5 for the "avoidable ones" (Ivy and cactus, etc.)
+ Horse bond can now exceed 32,767 but has no actual benefit past 10k

New Beginner Bird Game Intro Quests
+ BB shows new players the basics of the game
+ If a player has no horse BB offers a temporary saddled horse lease.
+ Hopefully will make it a little easier for new players, and take load off helpers!

Animation Improvement:
+ The Capriole trick animation has been redone by Honeybuns.

A New Saddle Horse:
+ Ukrainian Saddle Horse

A New Draft Horse:
+ Mezen

Added Performance Metrics & Updated BBB info into the new layout:
+ Ponies: Esperia Pony, Jeju, Kerry Bog Pony, Priangan.
+ Horses: Danubian, Hirzai, Jaca Navarra, Jutland, Merens.

Additional Breed Tweaks:
+ Added dun to Jeju and Halla (you can now token them).
+ Added chestnut and bay to Hirzai horses + they can now have lighter coats (you can now token them).
+ Added conformation section to Hirzai's breed info.
+ Added conformation section to Esperia Pony's breed info.
+ Jutlands can now have a louder dappling pattern (can now token them).
+ You can now breed manchado into Priangans.
+ Re-classified the Anglo-Arab as a European hotblood (rather than an Oriental one).
+ Added images to dozens of breeds in the website BBB.

Bug Fixes:
- Castle Fountain stray water polygons fixed.
- Castle Player store missing face on door border fixed.
- Emoji input panel no longer gets cut off below screen with some resolutions.
- Renamed Deepest Ocean to "Over Deepest Ocean" for Server Spotlight.
- "Grinch trees" prevented for next xmas. (A (repaid) club got 0 presents due to rare bug)
- Xmas trees will now show the total presents under the trees.
NEWS: Injury Exp Reduction (December 31, 2021)
A few days back we disabled getting EXP for vet services cause some folks were injuring horses purposefully to gain EXP. Not exactly something we want to encourage. So, We removed the exp bonus and today we just removed 50% of the XP gain for the 50 horses that had this done more than 100 times to them. These horses will also receive free counseling :)

If anyone paid for these trainings and had the xp half removed, fairest case is to work together to refund half the fee.
Thanks Much! And Happy New Year! (I'll be on the game soon to spread some cheer)