Come Join The Infinite Wilds!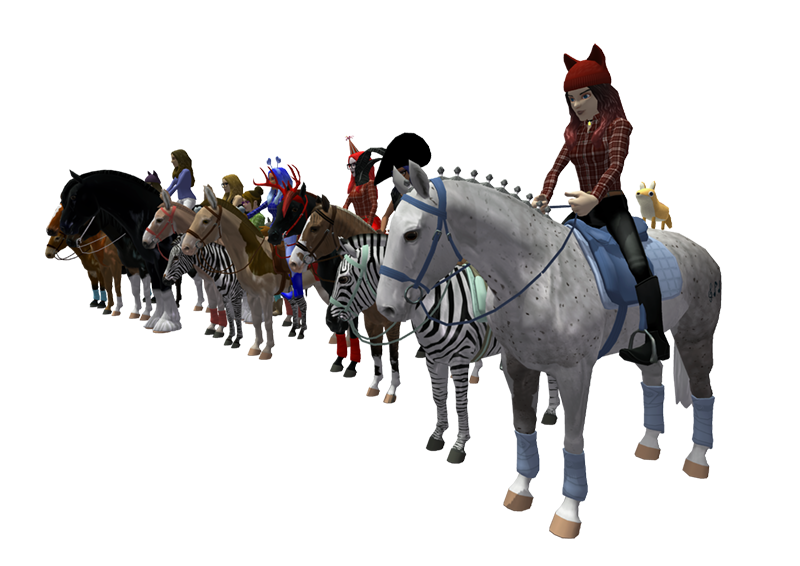 Horse Isle 3 - Infinite Wilds!
Infinite World to Explore, Infinite Genetic Breeding, Infinite Wilds to catch!
Free downloads for MAC, Linux And Windows Computers!

HI3: Infinite Wilds! (Come join the adventure!)
Welcome to the newest in our series of family friendly games made for horse fanatics! Clean, nonviolent fun, with some education tossed in! Grand adventure and real world horse genetics await you in this, our third installment.
HI3 is fully 3D, yet retains the unique charm of the previous games. Your horse's performance and actual look are based on its genetics, just like the real world. No two horses look or behave alike. Come discover your special horses!
Along the way, make friends with some of our great playerbase. HI3 players are helpful and fun folks! This is a special place :)
Create Free Account!
Infinite Wilds:
Infinite World, Infinite Wild Horses & Infinite Horse Genetics Combinations!
Players Currently Online:121 Active Accounts:3519
NEWS: HI3 Client Update v.25b (June 24, 2020)
Hey everyone, thanks for your patience the last few days. Hard to juggle everything, but I think we have a decent update for you. Some of these changes were from player suggestions, and we will continue to work through some for the next update.

Additions & Changes:
+ Added a single optional course rule allowing On Horse/On Foot/Kayak, So Hang gliders and Hot air balloons and Sailboats should all give penalties.
+ %ANOMALY will now offer the heading again if one is active.
+ Conch shells quantity increased by 4x in world.
+ Equipping of snowshoes now prevented while gliding.
+ Equipping of kayak or sail boat is now prevented when in the air.
+ +2 club wagon slots added.
+ Ability to set your Quick-Travel Landing spots for each of your parcels now via Parcel Settings. (not ranch/club houses, just parcel travel)
+ Course owners can now add a single-line description. (Will reset scores this update, will try to NOT next update)
+ Horses and studs in stores may now be bought right from viewed profile for safer tracking.
+ May now edit Travel Journal names, and can add an optional description line.
+ Travel Journal Entries are now alphabetically sorted.
+ Horse Ordering NEXT/PREV/BUY buttons all are disabled until current horse fully loaded now. There was possibly an extremely rare bug caused with paging quickly through horses before fully loaded, so this is to prevent that possiblity.
+ Renamed all monotone tack to start with monotone for better alpha sorting.
+ Added some purple to Horsie Sense to be able to see in desert better.
+ Added NEW tags to BBB that fade out over 30 days now.
+ Added 1 hour auction term option
+ Attempt to "go back" to original horse list after a breeding.
+ Added Shift+M hotkey to open map centered on heading.
+ Added Shift+F hotkey to dismount and put away horse.
+ "At Your Horse Max" Displayed upon catching a wild or other horse acquiring that puts you at max.
+ Can now save Text Changes to Courses without resetting scores.

NPC Addition:
+ The Horse Traders would now like to discuss some things with you.

Clothing Additions:
+ Overalls craftable and dyable.
+ Ascot Fair Lady Hat in the store for a limited time.

Stat Boost Party:
+ Anyone can now buy a Stat Boost Party for the whole server from the Mobia Shop.
+ Everyone online will gain up to 1000 in each Energy/Travel/Focus. (DOES NOT redistribute if travel already full, etc.)
+ 1000pts = 1/10th of stat bar.
+ Price varies from 100 to 500 mobia depending on how recent it was previously purchased.
+ After someone buys, it will cost 500 mobia to do again. 1 hour later=300, another hour=200, 4 more hours=100.
+ So 6 hours after purchase it drops back down to cheapest price.
+ Upon purchasing a little random message crediting buyer is shown to everyone.

Two New Breeds with Iconic Coats:
+ Losina (metallic; read color info in BBB)
+ Sorraia

Additional Breed Tweaks:
+ Added grey coat to Galiceno

Bug Fixes:
- Fixed gap in front door of Victorian Post Office.
- Mares giving birth offline gain experience bonus fixed AGAIN and BETTER and for real..
- Age shown in Horse Ordering was sometimes off by .1yo, fixed for consistency.
- Fixed ski jump stats running while spamming jump button going uphill.
NEWS: Horse Isle 1 Compromised (June 23, 2020)
Please note! Anyone who had an account on Horse Isle 1 with a similar username/password as HI3 should change their password ASAP. We are sorry for this trouble, but some folks had nothing better to do than cause havoc on HI1. Assuming login/password info on HI1 will not be secure.

HI3 is fine and unaffected, UNLESS you have a similar name/password, then the attackers could possibly gain access to your account. so please change if this is the case.

Thanks! Sorry for the trouble.
We are going to be working as best we can to rebuild HI1.
NEWS: HI3 Server Down (June 22, 2020)
Sorry about the server downtime this evening.
Roughly 7:40pm-9:20pm CST. Took our server hosts a bit to fix the issue.
This was on our end, nothing to do with your computers during this time.